Automate, Systemize, Accelerate and Prosper, ASAP!
Auto Approval Sets the Pace

Benefiting both Employees and Employers
No more waiting for manual resolution
With H2R.ai, accelerate the employee action plan through an automated approval process. Whether it's job-related details or time off requests, obtain swift approvals for all with ease and efficiency.
Effortlessly an automated approval process
Design optimized approval processes to streamline operations, empowering your employees to navigate efficiently and saving valuable time.
Location and department-based approvals
Unlock operational efficiency by implementing a streamlined approval process that allows you to select location, division, and department, freeing your team from manual tasks.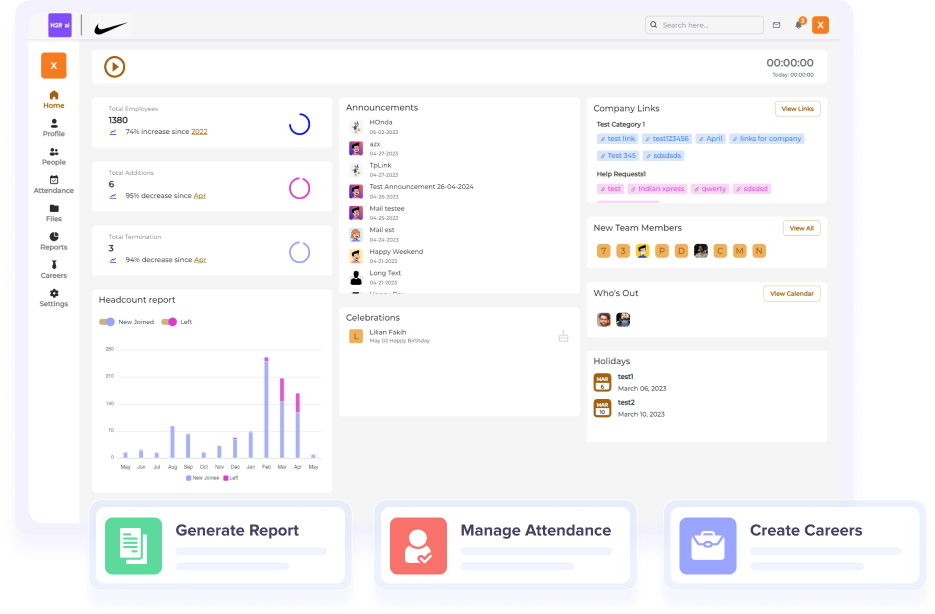 Let's get started with

H2R.ai
A ground-breaking database to store and secure confidential
information with controlled access. 
Employee Data Management
like Never Before
H2R.ai is an unrivaled solution that revolutionizes how you
handle employee data
Tailored Profiles in a Sleek Database
Centralize your employee profiles for enhanced security and seamless self-service updates.
Enforce Access Hierarchy with Permission Based Settings
Enable role-based access to organizational and peer data, fostering transparency.
Design Unique Competence Levels for Departments
Elevate your departments with proficiency levels. Streamline employee progression with ease.
SIGN DIGITALLY, EMBRACE THE DIGITAL YOU
Bank on convenience

Use H2R.ai's Digital Signature
Craft streamlined signature process
Empower your HR team to effortlessly customize signature workflows for specific locations and documents, ensuring seamless operations.
Simplify documentation with digital signatures
With just a few clicks, your HR team can set up and execute e-signatures, simplifying the entire process.
TAILOR AND TRACK YOUR EMPLOYEE REPORTS
Data-driven HR decisions with
comprehensive, customizable employee reports
Centralize standard reports for easy access
Access concise employee performance summaries, turnover data, project status updates, attrition rates, headcount details, and more via standard reports. Export to Excel for further analysis.
Personalize reports for enhanced understanding
Customization is the key for HR teams shifting through numerous profiles. Empower yourself to extract the necessary data and tailor multiple fields, ensuring precise and accurate data representation.
Fuel your business growth with enlightening reports
Empower your business with robust HR data reporting and management. Leverage data-driven reports to navigate your company with confidence and enhanced efficiency. Propel your business towards success with us!
Experience simplified and effortless offboarding
Embark on a journey of seamless offboarding, orchestrated with precision to create a harmonious transition for departing employees and your organization. Experience the comfort of effortless farewells, leaving a lasting positive impression and save yourself from unsolicited messages in future.
Safeguard the privacy of records
Preserving the privacy of resignations and terminations is paramount for organizations. We provide employees with a secure process, ensuring confidentiality and granting peace of mind.
Streamline attrition tracking with ease and efficiency
Track attrition, analyze factors, predict rehire eligibility. Optimize workforce management strategies with valuable insights.
HASSLE-FREE OFFBOARDING PROCESS
Create a
transparent offboarding

process
Empower yourself with H2R.ai

to have
complete control over your employee data
Do a lot more

with H2R.ai
Experience Seamless HR Management
Fostering A Productive And Collaborative Work Environment
For More Info Contact Us
Canada Head Office: 1880 O'Connor Dr, Toronto, ON M4A 1W9
US Head Office: 807 S Jackson Rd, Pharr, TX – 78577
Contact Us: contact@h2r.ai
Stay tuned with us on social networks!